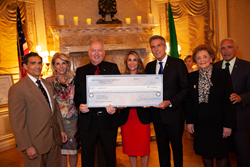 NEW YORK (PRWEB) JUNE 19, 2019
Expanding its commitment to the welfare of children through its new campaign launch "Chivalry for Children's Causes," the American Foundation of Savoy Orders raised thousands for Caterina's Club during its annual West Coast gala – Notte di Savoia – in Los Angeles on April 6, 2019. This year, $100,000 was donated for the Southern California-based charity from funds raised by the event. The grant was presented to Caterina's Club founder Chef Bruno Serato during the Savoy Foundation's Annual Spring Event – Festa della Primavera – on June 11, 2019 in New York City for its work providing meals, housing and job training for disadvantaged children and families.
The American Foundation of Savoy Orders was founded to support philanthropic causes, among which is the care for needy children. This year, the Savoy Foundation launched a new charitable initiative – Chivalry for Children's Causes – a multi-year campaign to assist institutions and charitable organizations whose programs aid children and families in need, building stable, healthy families, by providing enrichment spaces, basic meals for improved health and stable living conditions in economically disadvantaged environments.
Carl Morelli, Chairman of the Board stated: "I am delighted to present the Caterina's Club grant to Bruno Serato for his outstanding efforts to bring to the forefront a most worthy cause for children and their families. Our Foundation was founded for chivalric causes among which is the care for disadvantaged children. We are ever so proud of the funds raised at our Los Angeles Notte di Savoia in April of this year and I will present this with great pride on behalf of all those sponsors and benefactors who made it possible for 11 families to find permanent homes in Los Angeles. "
"We are extremely pleased and grateful for this gift," said Chef Bruno Serato, Founder of Caterina's Club in Anaheim, California. "It's wonderful to be able to announce it and celebrate with the families and young people that we serve. We will be able to find homes for 11 families who have been living in motel rooms without a kitchen and adequate living space, some for as long as 10 years! This generous grant from the Savoy Foundation represents a tremendous boost to our philanthropic efforts to support the many families that need our help."
ABOUT THE SAVOY FOUNDATION AND THE AMERICAN DELEGATION OF SAVOY ORDERS
The American Delegation of Savoy Orders, which includes the United States of America, is among 35 delegations of the Savoy Orders located throughout Europe, the Americas and Japan. The Dynastic Orders of the Royal House of Savoy are among the oldest orders of chivalry in the world. Their origins and their principles, traditions and humanitarian goals, like those of the Royal House of Savoy that has the hereditary right to confer them, date back a thousand years. The American Delegation of Savoy Orders through its charitable arm, the American Foundation of Savoy Orders, contributes to humanitarian, hospitaller and charitable projects and initiatives in the United States and abroad, particularly in healthcare and hospice care, disaster relief, education programs and children's causes.
The American Foundation of Savoy Orders, Incorporated, a 501(c) (3) charitable organization headquartered in New York City, supports local, national, and international charities focusing on medical, educational, social assistance and humanitarian fields, including philanthropy for hospitals, relief agencies, children's causes and hospice care for the poor, infirm and elderly. The Foundation is a Non-Governmental Organization (NGO) in Roster Consultative Statues with the Economic and Social Council of the United Nations.
For more information on supporting the causes of the American Foundation of Savoy Orders, see below.
CONTACT:
Larissa Van Duser, Executive Director, American Foundation of Savoy Orders
amsavoy@aol.com, +1 212 972 0495
For more information, visit https://www.savoia.org/